Dying Too Soon: In Northern Virginia, the Risk of Dying Before Age 75 Depends on Race, Ethnicity, and Address
In June 2023, the Center on Society and Health completed an analysis of death data from across the Northern Virginia region between 2015 and 2021. The Dying Too Soon report and accompanying county-specific one-pagers reveal deep and persistent health disparities in Northern Virginia. The report's authors found that a person's chances of reaching age 75 in Northern Virginia depended largely on their race, ethnicity and neighborhood. During the COVID-19 pandemic, these factors had an even greater impact on whether people lived or died.
Deeply Rooted: History's Lessons for Equity in Northern Virginia
In 2019, the Center on Society and Health completed a set of studies ("Getting Ahead" and "Measuring Opportunity") that documented large geographic inequalities in Northern Virginia. In a region known for its affluence, the Center documented a 17-year gap in life expectancy across census tracts and identified 15 "islands of disadvantage," neighborhoods where residents face harsh living conditions. These neighborhoods did not come into existence by accident – they are products of history.
Commissioned by the Northern Virginia Health Foundation, "Deeply Rooted: History's Lessons for Equity in Northern Virginia'' provides some background to those studies by digging deep into Black history in Northern Virginia over the past 400 years. The report details a history of exclusion from freedom, homeownership, education, jobs, and civil liberties and offers suggestions for current policies that can help redress the lasting impact of the past.
The report was published alongside an accompanying website that digs deeper into the people, places, and events mentioned in the report and allows for additional audio and video recordings.
Click here to download the report.
Click here to explore the website.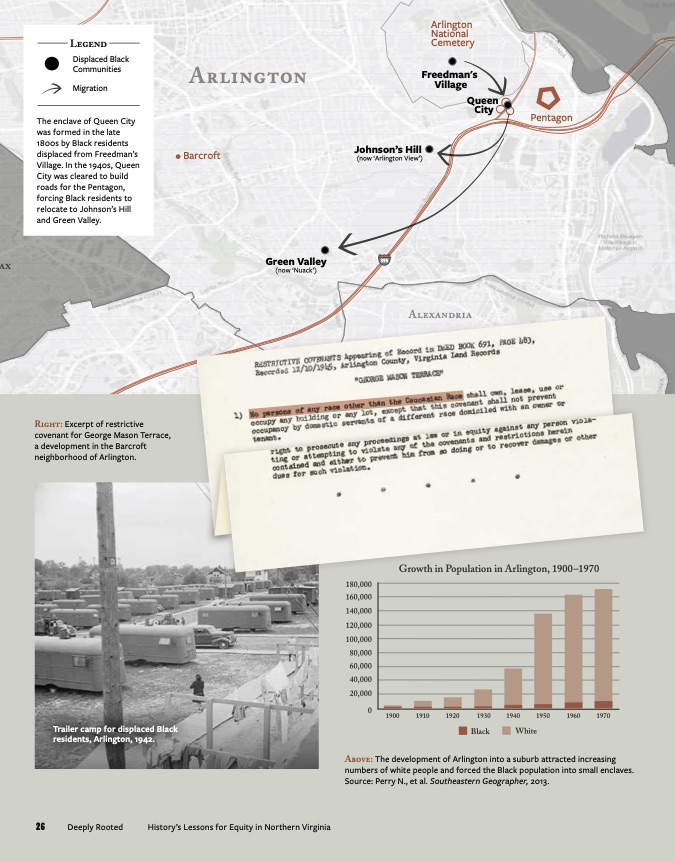 Measuring Opportunity: The Healthy Places Index
Every person in Northern Virginia should have the opportunity to achieve optimal health. The Center on Society and Health developed a powerful tool to assist in exploring local factors that predict life expectancy and comparing community conditions across the region. The Healthy Places Index, as featured in the NVHF-commissioned Measuring Opportunity brief, shows that life expectancy in Northern Virginia varies by as much as 19 years and over 75 percent of that variation is attributed to factors related to housing, transportation education, economic characteristics, and other household resources.
View the interactive map of Northern Virginia
Getting Ahead: Life Expectancy
The Center on Society and Health—supported by the Northern Virginia Health Foundation—produced a regional report, a series of county-specific snapshots, and an interactive map highlighting differences in life expectancy, income, educational attainment, and racial composition of neighborhoods in Arlington County, Fairfax County, Loudoun County, Prince William County, and the cities they surround. While Northern Virginia is among the healthiest places in the United States, residents here do not all enjoy uniform outcomes. For example, life expectancy at birth—the number of years an average newborn can expect to live—varies by as many as 18 years across Northern Virginia.
Download the regional report and county snapshots: